Working with Lorain County Domestic Relations Court
Lorain County Domestic Relations Court offers employment opportunities for a variety of skill sets.  Our goal is to hire and maintain positive, skilled professionals that are dedicated to our mission and to making an impact in the lives of youth and families.  Many of our staff members have made employment with our Court as their career due to the relationships built with co-workers and supervisors.  The driving force behind our staff is their willingness to be selfless at times and to make mission-based decisions for the best interest of the Court and the public that we serve.
Congratulations to Magistrate Ly!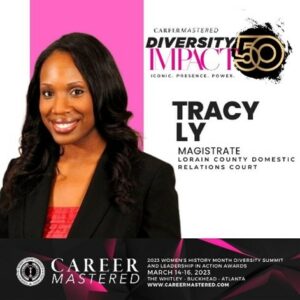 Tracy Ly, who is an Administrative IV-D Magistrate for the Lorain County Domestic Relations Court, is being honored by Career Mastered Magazine, being named on the 2023 Women's Leadership Diversity IMPACT 50 List.
 Magistrate Ly was chosen for this honor by the Career Mastered editors, advisory board, and strategic partners based upon her impact and contributions to the community she serves throughout her career as a public servant. She is a leader in her field, and she has demonstrated a commitment to creating an inclusive environment where people feel their voice is valued and their rights are protected.
  "While I may not do great things, I can do small things in a great way. And sometimes those things are going beyond what is required, by doing what is humane," Magistrate Ly said about her public service.
 Magistrate Ly will be honored at the Career Mastered National Women's History Diversity Summit & Leadership Awards event held on March 13-16, in Atlanta, Georgia.
Requirements
Requirements: Educational requirements vary among positions. A minimum qualification for a non-degreed position will require a high school diploma or a GED. An acceptable field for those positions requiring a Bachelor's degree, would be Psychology, Sociology, Criminal Justice, Social Work or a related field. Additionally, qualified candidates will meet the following:
Meet the posted age requirement
Ability to communicate & work appropriately with professional staff, adolescents & the general public
Proven written & verbal communication skills
Must submit to mandatory drug & alcohol screening
Valid O.D.L. & proof of insurance
No more than one moving violation or at fault accident in the last 3 years
Pass physical exam, if required
3 letters of reference, if required
*An interview may or may not be required
*An equal opportunity employer M/F
Application
Be sure to complete all sections of the application including the Pre-Employment Controlled Substances Testing Authorization and the Criminal Records Check and Release of Information.
Employment FAQ's
Lorain County Domestic Relations Court offers excellent fringe benefits including:
Medical Insurance
Vision Insurance
Dental Insurance
Prescription Drug Plan
Two Weeks Paid Vacation
14 paid holidays
OPERS Retirement System
Supplemental Retirement options