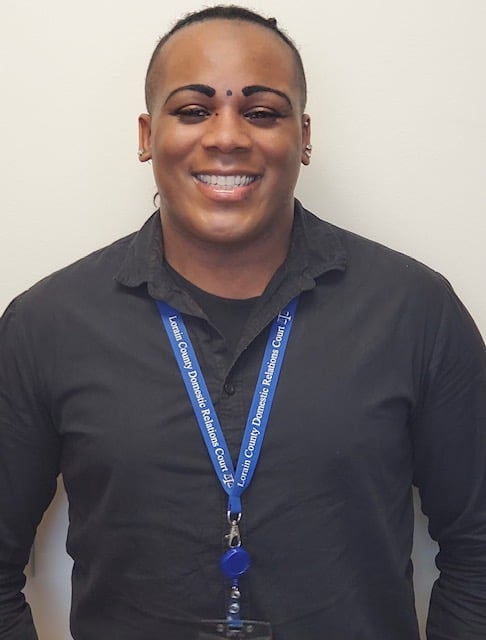 Staff Spotlight
Kenn

Kenn is an Assignment Commissioner working in the Juvenile Clerk's office.
Describe your job to someone that is looking to enter the field and secure employment with Lorain County Domestic Relations Court?  
"As an assignment commissioner, my job is extremely busy all the time. I work on the juvenile side of Court cases and I am one of the faces of the Court, along the domestic assignment commissioners. When you come into Court for juvenile traffic/delinquency hearings, I'm the first person you see. I'm also the first person you talk to when you call the Court regarding juvenile/traffic cases. To describe my job in the simplest way possible, I schedule Court hearings for the judges, magistrates and for juvenile probation when needed. I also coordinate hearing dates with attorneys and ensure the Court dockets are running smoothly. I fax paperwork to the detention home, in-home detention, and other facilities as well as send fingerprint orders to the crime lab. All journal entries throughout the Court come to the assignment commissioner's office first to ensure accuracy and ensure everything is in order for processing. My job can be challenging at times, but assisting the public that arrives at Court is very important to me. I always remain professional, caring and respectful."
Provide some information about your first few weeks in your position.   Were you required to complete training?  Were you excited or overwhelmed?  When did you start feeling comfortable within your position?   
"When I first started with the Court as an Assignment Commissioner, I was fresh out of college and it was very overwhelming. My multi-tasking skills had to kick in quickly due to the abundance of job duties I was given. I was afraid that I would miss something important and make a mistake. I'm one of the youngest employees of the Court and I didn't think I would fit in or meet anyone's expectations. Once I met everyone, they made me feel welcomed and everyone works together well and assists co-workers in need. I learned so much in my two-week training period. I didn't understand a lot of the information/tasks at first, but after weeks of training, it started to make sense. I asked more questions and talked to the magistrates about how things should be done and handled. I'm still learning new things about Court and my job every day."
"What are the most important skills needed to be successful a Juvenile Clerk/Assignment Commissioner? 
"I feel it is important to have patience and empathy with the public because coming to Court isn't always a pleasant experience. I don't want to add any additional negativity to an already stressful situation. My ability to multi-task and my people skills are the most valuable traits I have in my position."
What are the aspects of your job that you love and are the most rewarding?  
"One of the most rewarding aspects of my job is when members of the public come to me and thank me for being patient and kind. It is also rewarding to see people leave Court in a somewhat better mood because I was able to help them and made them feel a little better about their Court experience."