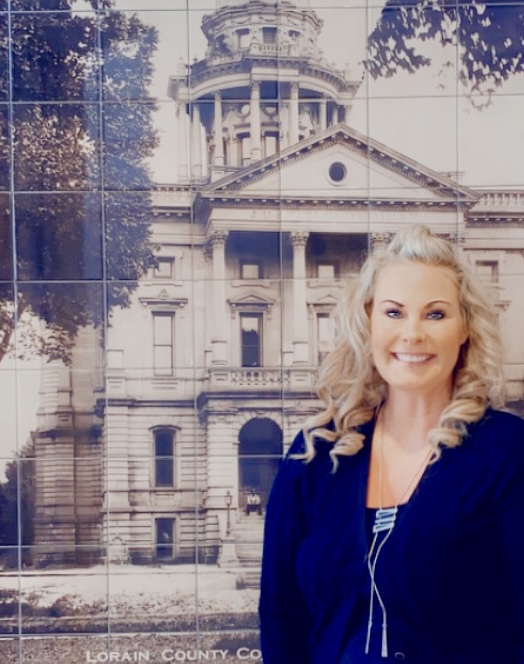 Staff Spotlight
Coco

Coco is an Attendance Officer working for the Department of Probation and Youth Services
Describe your job to someone that is looking to enter the field and secure employment with Lorain County Domestic Relations Court?  
"Working as an Attendance Officer for the Lorain County Domestic Relations Court is extremely rewarding. I have the opportunity to not only work within the parameters of the judicial system, but also have the privilege to work with youth, families, school systems and community partners. I have gained vast knowledge in the area of the laws and processes guiding school attendance and community resources. I work directly with school administrators, guidance counselors, school social workers and school resource officers. I work in the confines of a team approach in order to establish Absence Intervention Plans that meet the needs of the student and families."
Provide some information about your first few weeks in your position.   Were you required to complete training?  Were you excited or overwhelmed?  When did you start feeling comfortable within your position?   
"I began my journey as an Attendance Officer in October of 2019 with the Lorain County Domestic Relations Court. In the beginning weeks of learning my new position, I was expected to complete various mandated trainings and answer questions that pertained to the videos that I reviewed. I was able to meet with other staff members of the court and learn what their roles were within juvenile probation. I worked side by side with my team, learning all the roles and expectations that were expected of me and what it would take in order to be a successful officer of the court. I quickly learned how to navigate the computer programs that we work with daily and was able learn and identify all of the necessary forms that are required. I toured the school districts I was assigned and had the opportunity to introduce myself to the school administrators and officials in each of those buildings.
I remember the first few weeks on the job being exciting and very informative. I was quite anxious to start working on my own and to begin serving and assisting the children and families I was assigned. After the first two months, I developed a comfortable approach to my work."
"What are the most important skills needed to be successful as an Attendance Officer? 
"Some important skills that I feel are very beneficial for an officer of the court to possess are; strong communication skills, effective time management skills, a positive attitude, and a person who can be direct and firm while still showing empathy for the population we serve."
What are the aspects of your job that you love and are the most rewarding?  
"One aspect of my job that I absolutely love is being able to work side by side with our youth. I enjoy getting to know them and their families and learning all about their backgrounds of which they come from. I try my best to assist them with any barriers they encounter and getting them linked up to community services or supports that will help them." 

One of the primary foundations of our Court is helping youth and families.  Share a success story you have had working with a youth on your caseload.  
"When working with youth and families, there will be days where you will feel defeated. However, there are also times where things work out perfectly and you experience a success story to talk about for years to come. 
 One young lady that I had the pleasure of working with happened to hate going to school and only wanted to work to make enough money to allow her to move out on her own.  Her mother had impairments and was unable to effectively give the appropriate attention to her child's needs. The student was failing all of her classes and was credit deficient. She wanted a better life for herself, but didn't know how to make it a reality. 
After many long talks and several home visits with this young lady, we were able to help her redirect her path and get her back into school full time. She was able to join a credit recovery program that was offered in the evenings through her school. During this time, she was also able to work and make the extra money she needed. Within a year, she ended up receiving all of her credits that were needed in order for her to graduate. 
The day of her commencement, I received a picture via text of her in her cap and gown with her diploma in hand. The teen was not only able to successfully graduate, but was able to accomplish this a year earlier than expected."